Whether you are adding to existing network infrastructure, moving an office or opening a whole new branch, let our network professionals put their years of experience and engineering expertise to work for you. We are able to assist in all phases of your project, from design and implementation to testing, maintenance and repair. From small companies with several PCs, to large Banks, School's, and Government offices that have numerous locations with complex architecture.
If you are looking for a company that provides service with a personal touch, look no further. We are that company! We treat our customers as people with special situations, needs, deadlines, and emergencies. We understand they are people who have a business to run and a payroll to make. With our firm commitment for quick response and high quality service, we are perfect for any businesses that can't afford downtime!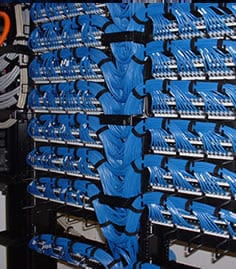 Our available project engineer's and design staffs are seasoned Communications experts and can assist throughout the development process. We have available RCDD's (Registered Communications Distribution Designer's) that can work with clients to deliver quality installation plans.
Cabling systems that we design are based upon the latest standards for scalability and future technologies. We believe in the numerous benefits of a standards based solution offers, but we are also fully aware that some situations require created solutions and variances in industry standards to facilitate the customer's best interest.
It is our responsibility to:
Design quality cable systems that are cost effective
Minimize the number of variances used in a design
Notify the client of short and long-term effects of any variances
Suggest appropriate solutions that will meet clients needs
In all cases, we can design a cabling system that is right for your organization. We will work hand-in-hand with your internal engineering teams and equipment. Manufactures to ensure the correct solution is delivered.
Cable Technology combines superior workmanship with high quality cost-effective products to implement and repair cabling systems that deliver reliability and performance. Our database contains thousands of service providers that have been profiled and screened to ensure that we provide the best service possible. Different technicians based on certification and skills needed to deliver the best results could complete installation and repair work at the same location. All profiles are geared to identify timeliness, reliability, quality, and competitive pricing.
We can handle any installation projects for Industrial, Commercial, and Residential clients. Installation services that we provide include: Data, Voice, Video, Audio, and Fiber Optics connectivity. Our engineers and installation technicians are highly trained and take responsibility of your network project. We can test and certify any cable installation for cross-talk problems, cable length, impedance, attenuation, loop resistance, capacitance, impulse noise, point-to-point noise, and certify the wire to EIA/TIA standards.
Cable Technology also provides repair services for any cable/wire/fiber connectivity issues. We have highly Qualified Technicians, trained to pinpoint problems in cabling systems. Testing of your cabling system with state of the art equipment is a very crucial asset. With today's computer systems running at very high speeds and meeting very high demands, you need to know that qualified people are leading the repair activity. Whether it is in a fiber optic application or a cabling problem, we can find the problem and tailor the proper remedy.
Whether you have in-house wiring problems, or personnel support needed to assist on cut-over projects, or just plain old fashion technical support for cabling problems. For any telecommunications need you may have, we can provide qualified people, equipment and support teams to get the job done. On large scale projects we can work at your location, or establish dedicated off-site project offices. Let Cable Technology work on your next provisioning, installation, repair, move, add, or change and we'll deliver a solution that meets your expectations.